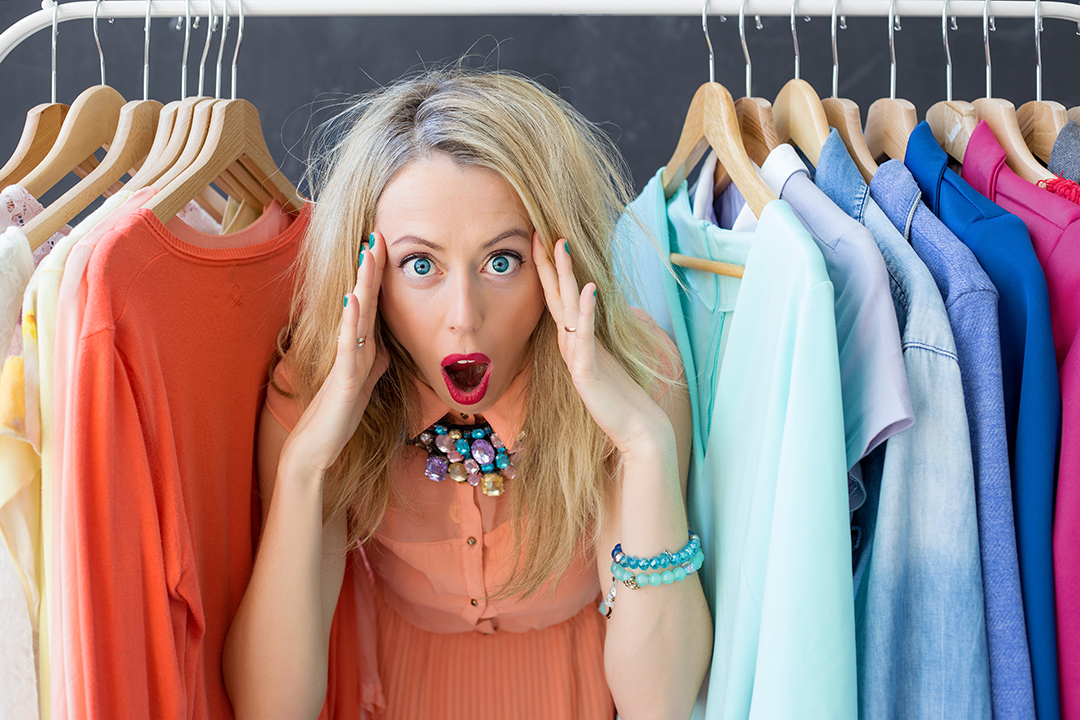 Your personal brand is right in front of you! #justsayin'
Stop looking and working so hard to try and figure it out!
Not only are your clothes a key part of your personal brand, they also contain qualities and attributes that translate into the style, colors, fonts, and textures of your brand.
Many of my clients come to me with colors or brands they like, but a brand is very individual and other ideas and styles can be close to the look and feel of what it should be, but more often than not, not the right fit. AND, when we adopt a brand that is not us, it causes a "speed bump" effect, your customers can feel that something is slightly off, but can't quite articulate what it is – thus slowing down the sales process.  Even when you hire a professional designer or branding expert, if they are not the right one, you could end up with the wrong look and feel unfortunately.  I work very intuitively with my clients to get their energy, style, and best colors to reflect them, and one of the first things I notice is what they wear, and if you are starting to look at updating your brand, your closet is the first place to look.
A Closet Audit: A few tips to get you started on your Freaking Awesome Brand:
What do you feel fabulous in?
What is the style? Color? Texture of those outfits? What kind of energy do you authentically emit?  Is it playful, fun, sophisticated, super classic and refined? Think about your customer experience- what do you want them to get from every interaction?
If you are rocking the rhinestones, have some sparkle or jewel-like elements to your brand, love rich leathers – have a softness and caramels to your brand – have a pair of shoes you love, love, LOVE?? What makes them unique, are they tried and true, dependable, sassy – incorporate these values into your branding through design but also your packages and customer experience. How can you give your customers more of that?
Of course I LOVE color and am known for it, my closet literally looks like a rainbow unicorn threw up in it! I do not buy anything that does not scream my name from across the room. Someone just commented recently how my brand and business cards always match what I wear, and there is no mistake in that- it's called congruency.
What about the leftovers?
Begin to edit these pieces out of your closet. You want to end up with pieces you love and feel great in.
Do you have pieces that remind you of bad times, a relationship that didn't work, a job you hated, or just make you feel blah?? Clothing and accessories carry the energy of how you feel in them. If you look at an article of clothing or an accessory that makes you feel anything less than happy or confident, it's time to let it go. This also applies to your brand elements and packages, sometimes we can have icons, colors and even business names that remind us of people and places that no longer serve us. If you are keeping a bunch of clothes and accessories that you no longer feel good in "just in case" – chances are, you are doing the same thing with your branding elements, packages or even clients. How you do one thing, is how you do everything.
Each of these questions provides you the opportunity to take a close look at what really lights you up. A Closet Audit is better than a Pinterest board. You can try each piece on for feel, style, as well as look. And, you can mix and match to create new looks. It's is a great place to begin developing a brand that powerfully and truthfully reflects who you are – and of course if you want some extra help on that, you know how to find me!
Don't settle for anything less in your personal brand…or in your closet!